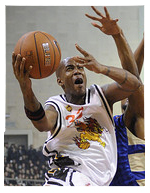 Show me a content Stephon Marbury and I'll point out a Starbury impostor.
After failing to make the playoffs in the CBA with his team Shanxi Zhongyu. Marbury wants $2 million to remain with the Chinese squad two months into signing a deal to join the team.
Marbury has put up Marbury like numbers in China averaging 23.1 points, 9.4 assists and 6.2 rebounds, but he isn't happy with the cold weather of Shanxi province. Originally, Marbury's plan was to join the club as a promotional vehicle to sell his Starbury sneaker line, but I guess the exchange rate on sub-standard athletic apparel is on par worldwide.
Currently Marbury is earning $25K a month the playing the CBA, please don't feel bad for him.
H/N Sina + The Hoops Market