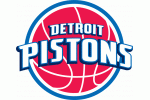 Rodney Stuckey was at Pistons practice Tuesday, looking and feeling healthy, but did not participate.
Stuckey collapsed Friday in the third quarter of their game at Cleveland said numerous tests have been done on his heart, his blood, and everything has come back negative.
"I'm good, everything is good," said Stuckey, who is questionable for Wednesday's game against Utah. "They ran a lot of tests on me and everything came back good. I'm just taking it day by day."
Stuckey doesn't know when he'll return to action as he awaits team doctors to make that decision.
H/N Detroit News