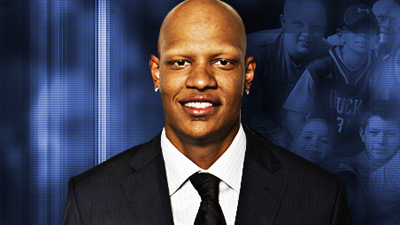 Twitter is a juggernaut and it's become the choice social media tool used by all. It trumps Facebook and Myspace because it's easy to use, provides you direct access to people and it's super addictive. Plus, those with multiple personality disorder now finally have somebody to talk to, although nobody will answer back, but on Twitter that's completely fine and they're already use to that.
The NBA has been front and center of the twitternology line and every team and nearly every player now has a Twitter account spitting out randomness 24/7 and I love it! With that said, there are five players that do it the best and they have been named to the Hooped Up All-Twitter First Team.
To make this team you have to have an active account, it has to be certified and you have to be a Twitter ninja.
PG – Nate Robinson / @nate_robinson
I've had this Twitter list ready for sometime and all it needed was a point guard. Enter Nate Robinson tweetin' on the law and his epic "LOL" failure. The Knicks might not want him anymore after his Tweet stunt, but at least he's got a secure spot on my All Twitter Team with Twitter addiction like that.
Tweet of Legend: "Cops pulled me over cuz my windows were 2 dark (but my windows were down) lol how funny is that" and, "I am still pulled over and its been 35 min they have me sit in my truck like i dnt have s#*+2 do lol."
SG – Ron Artest / @96TruwarierQB / @ThugRaider37
Ron Artest tweets just as hard as he plays! Twitter works best when the person who's tweeting keeps it real and Ron-Ron keeps it so real that I think Cormega's LP titled "The Realness" was talking about Ron-Ron's Twitter account. Follow Artest today and give your real-o-meter a boost.
Tweets Of Legend: "Houston did me dirty. I can't wait til next year when we go to Houston. I'm not shooting. All defense. Somebody getting locked da f**k up."
"I still feel blessed but they messed up my bird rights. So it's on as long as I'm in the league."
"Sex is like paintball. U play hard for 30 minutes get hot & sweaty & when it's over just be glad your not the one who got shot in the face!"
SF – Charlie Villanueva / @CV31
Be honest, before CV31 started tweeting you only knew about Charlie Villanueva the player, but not Charlie Villanueva the person. It's okay, you're not alone. After Charlie V sent a tweet from the lockeroom at halftime of a game all of a sudden he became a household name and he's been sky rocketing up the top tweet charts ever since.
Tweet Of Legend: "In da locker room, snuck to post my twitt. We're playing the Celtics, tie ball game at da half. Coach wants more toughness. I gotta step up."
PF – Dwight Howard / @DwightHoward
You could say that Dwight Howard updates his Twitter page a lot, but that would be a huge understatement the size of Howard's vertical leap. Since D12 entered the Twitter scene, dude has had over 3,800+ updates! Let's face it, as a fan maybe you'll never meet Howard, however if you have an iPhone or Blackberry you'll always know what Supermans up to. And I do mean always.
Selected Tweet Of Legend: Selected Tweet Of Legend? You'll need to hire a Private Investigator to find that one out. D12 has too many tweets for even this passionate blogger to track.
C- Shaquille O'Neal / @The Real Shaq
Shaq might be the biggest celebrity on twitter, that ever did tweet! Sure Ashton Kutcher, Britney Spears, Barack Obama and John Mayer currently have more followers, but  Shaq gives Pete Cashmore a run for his Social Media Specialist money as an expert. Since the "Big Tweet" joined Twitter, he has become the most followed athlete by a country mile on the social media platform, and he has used it like a web marketing 2.0 genius!
Selected Tweet Of Legend: "I'm at the fashion sq mall, any1 touches me gets 2 tickets, tag me and say yur twit u hv 20 min"
or @lancearmstrong "this is shaq, I challenge u to a race anytime any place, its time someone challenged u, call perry rogers for details its on"
Coach – Mark Cuban / @mcuban
Mark Cuban has been fined for everything under the sun by the NBA and it was no shocker when Cuban became the first person ever to be fined by the NBA for a Tweet that ended up costing him 25,000 US planetary credits. In Mark Cuban's world, you ain't doing your job unless you're gettin' fined. It's a strange logic, but you can't argue with the results. Even when the Mavs are struggling, Mark Cuban keeps Dallas relevant regardless of their record.
Selected Tweet Of Legend: "How do they not call a tech on JR Smith for coming off the bench to taunt our player on the ground?" Part II "scary part of that play: Same crew chief from game in Denver where they missed call – last play of the game & 1st JRSmith/Wright issue."
For a complete list of who in the NBA is on Twitter, check out my gigantic NBA player Twitterbook and follow me @hoopedup.