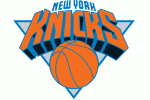 Eddy Curry has been ordered by the Knicks to report to the NBA Summer League in Las Vegas so that team president Donnie Walsh and his staff can monitor the progress of Curry's offseason diet and conditioning program, according to Jerry Powell, one of Curry's offseason trainers.
Curry will not play for the Knicks summer league team but is expected to be on the court for the second workout of a two-a-day session Sunday at Valley High in Las Vegas, where the Knicks will work out before their summer league opener Tuesday at UNLV.
Powell says Curry, […] has lost almost 50 pounds. "They want to see what he looks like," Powell told Newsday. "They want to see him get up and down with the summer league team and practice."
There is good reason. The 6-11 Curry, who three years ago displayed all-star potential, ballooned to well more than 300 pounds this past season, when weight and conditioning issues caused him to miss 80 of the 82-game schedule.