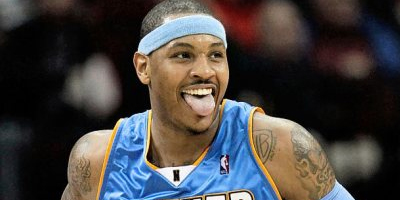 It's about frickin' time! Carmelo Anthony is finally a New York Knickerbocker!
Here's the breakdown of the trade according to several new outlets. The Denver are sending Carmelo Anthony, Chauncey Billups, Shelden Williams, Anthony Carter and Renaldo Balkman to New York.
The Nuggets will get Raymond Felton, Danilo Gallinari, Wilson Chandler, Timofey Mozgov, the Knicks' 2014 first-round draft pick, the Warriors' 2012 second-round pick, the Warriors' 2013 second-round pick and $3 million in cash.
Nuggets coach George Karl, after learning of the trade, said "I'm glad its over." Me too, coach. Me too.
Several reports say the Knicks will also send Anthony Randolph and Eddy Curry to the Minnesota Timberwolves.