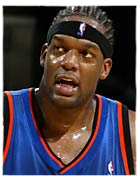 In this weeks episode of "Eddy Curry owes people money and is getting sued" staring Eddy Curry. The star of the show, Eddy Curry gets into trouble with an auto repair shop that wants to sue him for an unpaid auto repair bill of $730,000. Yup, Flux capacitors are getting more expensive every year Marty!
A luxury car repair shop in Chicago's South Loop alleges in the suit that Curry — who now plays for the New York Knick — racked up more than $73,000 in repair bills on vehicles including a Cadillac Escalade, Mercedes Benz, Range Rover, and Rolls-Royce Phantom. But several checks he issued to the shop were "returned by the bank for non-sufficient funds,'' the suit filed in Cook County Circuit Court alleges.
Well, things could be worse — actually, naw. This are just getting worse. This is the second time this year that a Cook County judge has issued an arrest warrant for Curry. Earlier this year, Curry failed to pay the balance of a $660,000 legal settlement reached after he was sued for allegedly having sex with an underage girl in the Chicago area.
More episodes of "Eddy Curry owes people money and is getting sued" to come, stay tuned.