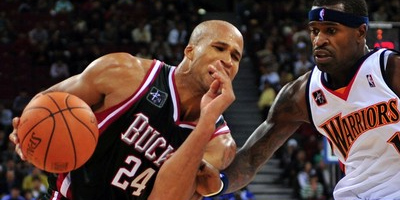 Two league sources confirm that Milwaukee and San Antonio have agreed to the framework of a deal that would send Richard Jeffersonto San Antonio for Bruce Bowen, Kurt Thomas andFabricio Oberto. A source said the two sides are working toward setting up a trade call with the NBA for late Tuesday.
The Bucks are sending Jefferson away less than a year after acquiring the scoring forward in a draft day trade last season for Yi Jianlian and Bobby Simmons. Jefferson's contract has two years and $29.2 million remaining on it.
Bowen, Thomas and Oberto give the Bucks a veteran group and financial flexibility. None are signed beyond the upcoming season.