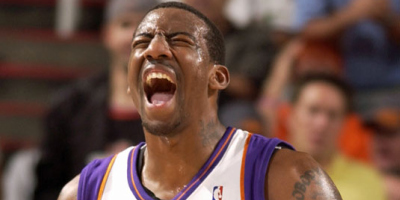 Get sucked in to the fact that the Suns are no curious case of Benjamin Button and this squad will have to be blown up at some point. Why not now? Terry Porter isn't Mike D'Antoni either and in the long run that might be a good thing! A deep playoff run only happens with great defence and that's what Terry Porter brings to the table but, this won't happen with the Mike D'Antoni cast.
So since nobody wants to say it, I will. The main reason every player loves to play for D'Antoni is because in his system, playing defence is an asset like being bilingual or knowing Excel at Costco.
Sure these skills are nice to have but, they ain't necessary. It's all offense, all the time and when you change that culture with the very guys that were brought in to play the D'Antoni style. You'll have an unhappy squad on your hands wishing it was 2004 all over again. Terry Porter might as well be the Fun Police to Nash, Stoudemire and Barbosa. Who doesn't want to play in a system that allows you to take a shot every possession within 7 seconds anyway? I'll tell you, people who own 10 cats and probably Anne Coulter.
Stoudemires comments after the Suns lost to the Knicks last Wednesday, ade his feelings clear. 
"You want to play free," Stoudemire was saying after the listless Suns succumbed to the Knicks 114-109, their fourth loss in five games. "You want to play organized basketball, but you do want to have some type of playground atmosphere — the type of attitude where guys can't stop you and everybody's having fun. That type of attitude is what we're looking for and what we need."
Amare is the most valuable and youngest asset the Suns have and if he's unhappy, you don't have much to build around.
Combine that with him having an early-termination option after the 2009-10 season and the current ages of the other key Suns players Grant Hill (36), Shaquille O'Neal (36), and Steve Nash (34) who will either retire or walk if not traded. You have problems anyway, so why not just blow it up . The Suns might make the playoffs this year but, the deeper they get the less gas they'll have and then what? You try again with the same squad to make the same run again???
Given the right situations Nash, Hill, Shaq, and Stoudemire can help a club make a serious run at a NBA championship, just not this one. Plus, the Suns can't afford to dream about some magical run in the playoffs this year or next for five reasons.
Free-agency, father time, the Spurs, the Lakers and the Hornets and all these factors are cutting them zero slack.
According to CBS sports, the Suns are now interested in shopping Amare Stoudemire and if he gets traded, Steve Kerr would be doing the right thing. It's only a matter of time before Kerr has to pull the plug anyway if he sticks with Porter, so why not do it before the Suns gets older, less valuable and unhappier?