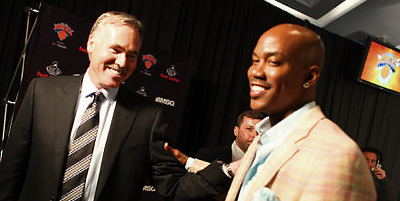 The Knicks versus Marbury saga just needs to end. If Marbury isn't really budging on his price whats the point in negotiation? If he wants to play, he's gotta pay and the Knicks have already made that clear. So in classic counting he chickens before they hatch style, Marbury has told the Post that the Celtics are interested in him.
Way to stall talks again Starbury. Not even Jerry McGuire could help Marbury, help himself at this point.
"The banished Stephon Marbury acknowledged for the first time yesterday he has a verbal commitment from the Celtics – and accused the Knicks of not accepting his latest buyout offer because they don't want him winning a championship in Boston.
A frustrated Marbury said the Knicks
 were playing "kids games," adding "It's got to be personal."
In an hour long interview with The Post, Marbury also said another NBA team has made an overture toward him. Miami is known to have expressed interest."
Via New York Post