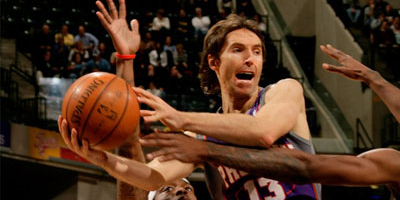 A team-by-team preview of all 30 NBA teams heading into the 2008 – 2009 season, Hooped Up style. Â 
Phoenix Suns
On paper this team is amazing! Steve Nash and Shaquille O'Neal are muti MVP winners, Grant Hill and Amare Stoudemire have each won the Rookie of the Year award, Leandro Barbosa won Sixth Man of the year and Boris Diaw won the Most Improved Player award. With such a decorated squad, you'd think they would be oozing championships but, only the new guy Shaq can speak about that accomplishment and unfortunetly he can't contribute like he did in the past to get those rings in Phoenix.
The whole team is getting older and if the window is still open, it's by a crack. 
Projected Starters:Â PGÂ – Steve Nash /Â SGÂ – Raja Bell /Â SFÂ – Matt Barnes /Â PFÂ – Amare Stoudemire /Â CÂ – Shaquille O'Neal
Additions:Â Robin Lopez, Goran Dragic, Sean Singletary,Matt Barnes, Louis Amundson
Losses:Â Brian Skinner, Gordon Giricek, Sean Marks, D.J. Strawberry, Eric Piatkowski, Linton Johnson
Projected Wins:Â 44+
Team Theme Song:Â Â Kanye West – Stronger
What doesn't kill this group of vets can only make them stronger. For how strong is the question thought. 
Overall
The truth of the matter is that the Suns were a Robert Horry hip check away from a championship in 2007 and that might have been the last real chance. They went more halfcourt by dumping Mike D'Antoni and Shawn Marion in favor of Terry Porter and Shaquille O'Neal and inserted newly acquired Matt Barnes into the starting line up. Â Steve Nash is still one of the best players in the league and will be the engine of this group, and Amare Stoudemire is still on the incline at just 25 years old. This team is so talented but after they blew their chance in 2007, everybody else in the west got better and things instantly got harder.
The playoffs yes, a Championship…probably not but, this is the league were amazing happens so you never know.