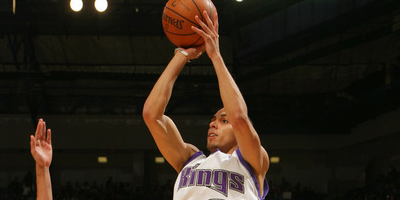 A team-by-team preview of all 30 NBA teams heading into the 2008 – 2009 season, Hooped Up style. Â 
Sacramento Kings
Meet your new Sacramento Kings! Mike Bibby gone, Ron Artest gone, and Shareef Abdur Rahaim…kinda gone but on the coaching staff. Â Yes, things are a changin' for the Kings and young stars Kevin Martin and Francisco Garcia are the new faces on the billboards. Brad Miller and the re-aquired Bobby Jackson still represent the old school but it's all about the kids. Â 
Hey, rebuilding ain't that bad right? 
Projected Starters:Â PGÂ – Beno Udrih /Â SGÂ – Kevin Martin /Â SFÂ – John Salmons /Â PFÂ – Mikki Moore /Â CÂ – Brad Miller
Additions:Â Jason Thompson, Donte Greene, Bobby Jackson, Bobby Brown
Losses:Â Ron Artest, Shareef Abdur-Rahim, Anthony Johnson, Lorenzen Wright, Sean Singletary, Patrick Ewing Jr.
Projected Wins:Â 20+
Team Theme Song:Â Â Arrested Development – Revolution
This team is officially on the road to change and with the deep pocket Maloofs and cap room, a revolution is happening in Sactown just give it time. 
Overall
Reggie Theus has proven that he can work with young talent from his Hangtime days and he'll be around to see this group turn things around. Â Brad Miller is still one of the leagues better centers, Beno Udrih is a decent point, Mikki Moore shows flashes of goodness and John Salmons is pretty solid. Kevin Martin is a NBA star and if they can build around his skills the rebuilding process won't be that painful. Â 
Loud arena yes, playoffs no.