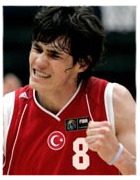 Towards the end of the FIBA World Championships, Nike opened up 10 basketball courts in Turkey to provide young athletes an opportunity to develop their skills.
The brand new and refurbished courts are located throughout Turkey in Istanbul (2 courts), Ankara, Izmir, Kayseri, Trabzon, Diyarbakır, Eskişehir, Mardin and Batman.
Each Nike basketball athlete that attended a court dedication, then had a court named after them.
Some of the pros on hand to attend openings included Dirk Nowitzki, Boris Dian, Kevin Durant, Carlos Delfino, Pau Gasol and Turkish native Ersan Ilyasova.
Good work gentlemen and Nike!