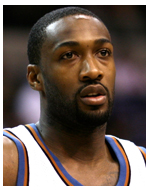 Gilbert Arenas will face felony gun possession on Friday and Prosecutors have recommended that Arenas be sentenced to three months in jail for bringing guns into his team's locker room according to the Washington Post.
Assistant U.S. Attorney Christopher R. Kavanaugh said Arenas gave inconsistent statements about why he brought guns in the Verizon Center locker room and showed "little genuine remorse for anything other than how this incident may affect his career".
While that alone seems like a jagged pill for the All-Star guard to swallow, the recent news he received that his estranged mother, Mary Francis Robinson died in Miami made that news pale in comparison.
Arenas did not find out his mother's passing on March 13 until days later and only her once in the past 25 years. However, Arenas paid for the funeral.
Prosecutors also stated: "If any other individual without fame, power and the wealth of this defendant, brought four firearms into the District for the purpose of a similar confrontation, the government would seek their incarceration and the court would almost certainly give it," Kavanaugh wrote, according to the Post.
H/N Washington Post