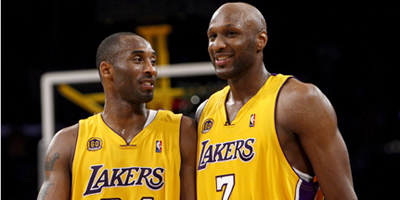 Lamar Odom has agreed on a multiyear contract to stay with the Los Angeles Lakers.
After a rocky free-agent courtship, Odom will return to the club he helped to its 15th NBA title this summer. Lakers spokesman John Black confirmed an agreement, but wouldn't discuss specifics.
The deal will keep Odom alongside Kobe Bryant and Pau Gasol, along with new teammate Ron Artest. Odom accepted and thrived in a reserve role during the Lakers' run to the title, averaging 12.3 points and 9.1 rebounds.
Odom repeatedly said he preferred to stay with the Lakers, but came close to leaving. Los Angeles pulled a previous contract offer from the table, and Dwyane Wade heavily lobbied Odom to return to Miami.