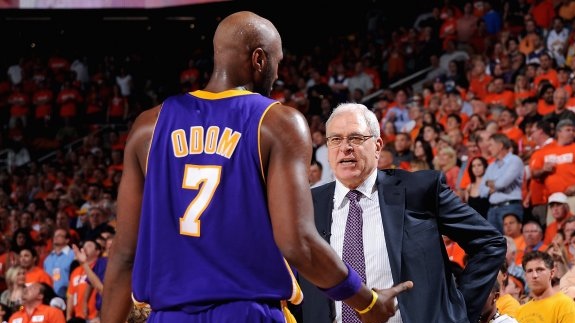 Lamar Odom signed with the New York Knicks Wednesday, in time to play the regular-season finale against the Toronto Raptors.
Odom, who signed a deal just for the remainder of this season, hasn't played in the NBA since the 2012-13 campaign, when he started in two of the 82 contests he participated in for the Los Angeles Clippers. That season he averaged 4.0 points, 5.9 rebounds and 1.7 assists.
This year, Odom appeared in two games for Baskonia (Spain). His new deal reunites him with Knicks president Phil Jackson, who coached Odom for several seasons while with the Lakers.
The 34-year-old Odom, a native of Jamaica, NY, holds career averages of 13.3 points, 8.4 rebounds and 3.7 assists in 961 games over 14 years with the Clippers, Heat, Lakers and Mavericks.