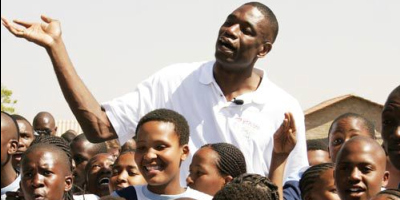 Late last year, much was made about the lack of efficiency a few NBA player charities where run with. However, I believe that any recipient of a charitable donation no matter the size, appreciates the contribution and nobody's humanitarian efforts should be diminished.
For this edition of the All-Anything NBA Team, I've assembled the All NBA Charity First Team.
To make this prestigious team, you still must be playing in the league and have a charitable organization that is exemplary.
Happy reading and get involved.
PG – Steve Nash
Steve Nash is as giving off the court as he is on it. Through his organization, The Steve Nash Foundation. Nash has given back to the underserved, neglected and abused children of Vancouver and Phoenix. He also created the Jim Jennings Memorial Endowment Fund, in honour of a Basketball staff volunteer at his alma mater Santa Clara University. This summer Nash also raised public awareness about Hunter Syndrome, with his high school friend affected by the rare disease Simon Ibell.
Nash is also very involved with charitable efforts abroad such as Gulu Walk, which raises awareness and funds for children in the war torn regions of Uganda. In 2007, he was part of a team along with Yao Ming that travelled to China to play an exhibition game that raised $2.5 million to help needy children in China.
In South America, Nash paid for a new pediatric cardiology ward in a Paraguayan hospital where his wife is from.
SG – Deron Williams
In just four years in the league, Deron Williams has been very active in giving back. Through his Point of Hope Foundation, Williams has already contributed $400,000 to provide support and hope to those who have cancer and other people in need.
Williams has left the door open to needy causes and says of his foundation, "Maybe in the future, we'll narrow it down to one thing, but right now, I just think there's so many areas that need to be touched that you just spread the love"
SF – Carmelo Anthony
The impact of Carmelo Anthony's charitable efforts has made a difference in Denver, Baltimore, and Syracuse. As the spokesman for the Family Resource Center, Anthony helps organize a yearly Christmas party for underprivileged kids in Denver. In Baltimore, Anthony opened the Carmelo Anthony Youth Development Center and contributed $1.5 million to the Living Classrooms Foundation. A non-profit organization that "provides innovative hands-on-education, job-training and community service programs for over 35,000 children, youth and young adults in Baltimore.
Anthony also donated $3 million to his alma mater Syracuse University, to build the Carmelo K. Anthony Basketball Center , one of largest donations made by a pro athlete to his former school ever.
Abroad, Anthony donated $35,000 towards the relief efforts of those affected by the Indian Ocean earthquake.
PF – Amare Stoudemire
This summer with his Each 1, Teach 1 Foundation, Amare Stoudemire journeyed to Sierra Leone to fund and aid in the building of water wells to provide fresh and clean water to several impoverished villages throughout the country.
He also met with the President of Sierra Leone to discuss building an eco-friendly Academy, using local resources and materials to provide kids with education and recreational activities.
Stoudemire's involvement has been seen as an inspiring presence by the country and his contribution has helped the goal of providing every household with safe drinking water, a more feasible reality.
C – Dikembe Mutombo
Where do you begin when talking about Dikembe Mutombo? Known league wide for his defensive presence on the court, Mutombo is known worldwide for his charitable efforts.
Mutombo helped build the first new hospital in the Democratic Republic of Congo, in 40 years and has been dedicated to improving conditions in his homeland since 1997. Mutombo spent over $15 million of his own money to complete this dream!
In 1999, Mutombo was elected as one of 20 winners of the President's Service Awards, regarded as the nation's highest honor for volunteer service.
Mutombo is a spokesman for the international relief agency, CARE (relief) and is the first Youth Emissary for the United Nations Development Program and was saluted in the 2007 State of the Union Address by the President for his humanitarian work.
Coach – David Stern
Since David Stern became the commissioner in 1984, the NBA has greatly increased its charitable contributions through, programs such as Read to Achieve and NBA Cares.
Since October 2005 through NBA Cares, the league, players and teams have raised more than $97 million for charity, donated more than 800,000 hours of hands-on volunteer service to communities worldwide, and built more than 350 places where kids and families can live, learn or play.