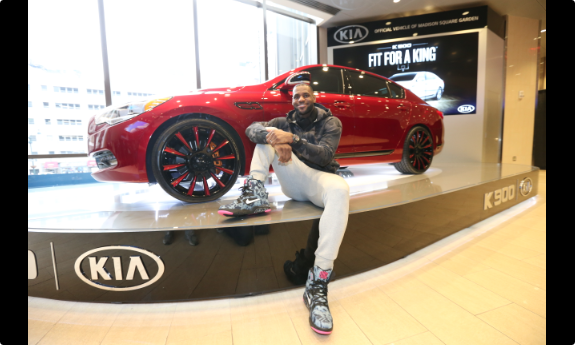 With all the extra money you won at the Kentucky Derby and in Las Vegas on the fight. Treat yourself to the LeBron James Customized 2015 Kia K900 Luxury Sedan. Proceeds will go to the
LeBron James Family Foundation and the car is valued at $168,463.
Showcased at the Cleveland and New York Auto Shows. This rear-wheel drive premium luxury sedan has a bit of everything, plus I'm guessing you'll get a chance to meet King James himself once you cop it.
Here's more on this classy ride for charity from Kia:
Design: The world-class wheelbase. The prestige distance. The sweeping shoulder line. All are characteristic features of a premium rear-wheel sedan. But it's the way the Kia Design Team blended those features that gives the K900 its athletic bearing and confident stance.
Comfort: It's the luxury car certified to deliver a quieter cabin and a smoother, better overall ride than the BMW 750i and Lexus LS 460. Featuring advanced noise absorbing materials throughout the vehicle structure, including laminated front and side windows, and when combined with K900's high-strength steel structure, the K900 silences the road. And the competition​.
Innovation: The K900 arrives with standout features. From the 17-speaker surround sound Lexicon® Logic 7 audio system created by GRAMMY® Award-winning Harman, to the Surround View Monitor, to the hydrophobic front side windows which helps repel water, the K900 is packed with innovations designed to enhance and engage your driving experience.
Drive: The advanced 5.0L V8 engine produces 420 horsepower. Couple that with an 8-speed, shift-by-wire automatic transmission and you'll experience rapid acceleration and fast, smooth shifting. In short, the K900 delivers a rewarding drive experience no matter where you travel.
Trims: The 2015 Kia K900 Luxury Sedan offers a stunning array of exceptional amenities from Quad Beam full-LED headlamps and sophisticated navigation system, to the VIP experience in that the rear passengers enjoy, which includes individually adjustable and temperature controlled seats.
Exterior: Custom Pearl Red Metallic exterior with exclusive pearl black accents, 22" Custom Monoblock Wheels & Pirelli Tires, Bronze Metallic Painted Brake Calipers, Lowered Ride height.
Fully Customized Interior: Alcantara Suede Interior and Headliner, Color Matched Diamond Contrast Stitching throughout, Customized Lexicon Logic 7 Audio System, Personalized King James Limited Edition Plaque #01, LBJ Icons in Headrests.
Visit charitybuzz.com to place your winning bid.