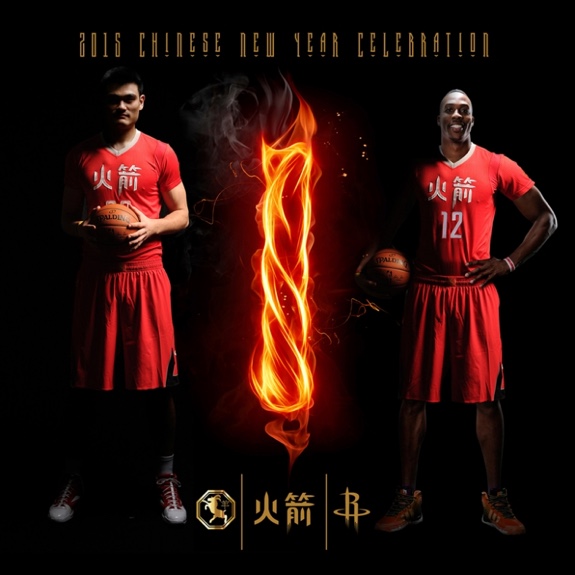 The Houston Rockets will wear specially designed Lunar New Year uniforms to celebrate the Chinese New Year with its largest international fan base. The team will wear the uniforms on three occasions.
"The Lunar New Year uniforms represent a great opportunity to honor our incredibly loyal and passionate fans throughout China," said Houston Rockets Owner Leslie Alexander. "From the time the Rockets participated in the first live NBA television broadcast in China on June 8, 1994, to my selecting Shanghai's native son Yao Ming with the first overall selection of the 2002 NBA Draft, to our participation in the first NBA China Games in 2004, the Rockets have always enjoyed a very special bond with our fans across the region. We are thrilled and humbled to establish the Lunar New Year uniforms as a way to honor the culture, heritage and historical and future connection we'll always enjoy with our Chinese fans."
"It brings great joy to me to see the Houston Rockets honor one of my country's most important traditions," commented Rockets legend Yao Ming, "Mr. Alexander and the Rockets have long embraced our culture and customs and made basketball fans in China a part of the Rockets community. I'm excited to ring in the Year of the Goat watching the Rockets wear the Lunar New Year uniforms."
The Rockets Lunar New Year jerseys will debut on Feb 21, vs. Toronto for the Rockets annual Lunar New Year Game. Additionally, on Feb. 23 vs. Minnesota and Feb. 25 vs. the Los Angeles Clippers, coinciding with the Rockets week-long Lunar New Year Celebration.