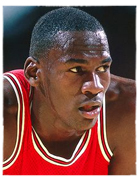 A day hasn't passed without you hearing that Michael Jordan will be in NBA 2K11 mostly from me and today, not a day will pass without you hearing  that Jordan believes that he could score 100 points in todays NBA according to USA Today — no foolin'.
"It's less physical and the rules have changed, obviously," said Jordan, who was promoting NBA 2K11 video game. "Based on these rules, if I had to play with my style of play, I'm pretty sure I would have fouled out or I would have been at the free throw line pretty often and I could have scored 100 points."
Really? I mean, if Kobe Bryant could score 81 points on the Toronto Raptors I'm sure with extra help from today's referees, Michael Jordan could easily drop 100 points on a lazy defensive squad too. But if MJ had to score 100 points for the Chicago Bulls to win a game, he'd be sporting one or two rings less when he retired because that kind point production would have meant the Bulls stunk as a team that season. Jordan also chimed in on the legacy of Kobe Bryant.
"It's so hard to say," Jordan told the newspaper. "I think he is always going to be within the conversations of some of the greatest players who've played by the time he is finished. Where does he rank among those, if you are talking about positions? If you are talking about guards, I would say he has got to be in the top 10."
Kobe Bryant as one of the top 10 of guards all-time? I can dig it.