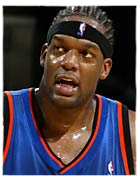 Have you seen Eddy Curry lately? Cause the Knick sure haven't. According to the New York Post, the Knicks brass haven't heard or seen Curry in more than three freakin' months. Man, here we go in New York again.
I heard yesterday that Curry was still nowhere to be found at the training center, where the rest of the team was already assembled and working out together. This is the latest Curry has been to arrive before camp; even last season he was in a week before camp opened, though he hardly did much work on the court (and then came up lame on the first day of practice).

From what I've been told, Curry has been working out on his own and maintaining the sub-300 pound weight he had last season. But for someone who desperately needs a big year and desperately needs to impress upon the coaching staff (and his very skeptical teammates) a desire to play a major role, he's hardly giving off a positive vibe in his absence.
Guess whose name rhymes with Meddy Burry, wears the number 34 and is maintaining a sub-300 pound weight that wishes he was in China with Stephon Marbury sucking back the best Jasmine Tea ever right now?