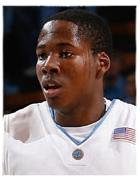 The Ed Davis era in Toronto is off to a bumpy and arthroscopic like start, despite the season still being more than a month away.
Last week, the Raptors top draft pick selected with the 13th overall pick suffered an injury in a pick up game in Mississauga, ON and Monday he underwent arthroscopic surgery to repair a meniscus tear in his right knee at Sunnybrook Hospital.
In an official statement, team doctors expect Ed Davis to be sidelined for up to six weeks.
The Raptors open training camp Sept. 28.