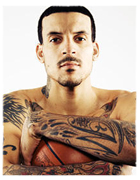 Toronto, you lose (Street Fighter voice). Matt Barnes is going back to LA where he played his college ball and veteran big man Theo Ratliff will be coming with, to soak up the Cali rays and maybe finally a shiny championship ring too.
According to reports, Barnes signed a two-year, $3.6 million pact to join the defending champs. Turning his back on both the Toronto Raptors who botched a done sign-and-trade deal to acquire him earlier this week and the James-less Cleveland Cavaliers who also offered him more money to lose.
"It's official," Barnes wrote on his Twitter account Thursday night. "I am a Los Angles (sic) Laker. This is a dream come true!!!"
Veteran defensive specialist Theo Ratliff agreed to a one-year, $1.35-million contract and will bolster the Lakers second unit.
"I've had a long and very rewarding career, and joining a storied and legendary franchise such as the Lakers adds an even more special element," Ratliff said in a statement, adding that he hoped to help his new team "win a third straight championship."
Matt Barnes and Theo Ratliff join Steve Blake as the latest new players to join the Lakers this offseason.