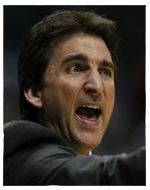 After months of speculation, Chicago finally pulled the trigger and fired second year head coach Vinny Del Negro, according to CBS 2.
After meeting with Bulls brass and owner Jerry Reinsdorf over the past few days. Del Negro wasn't able to change his bosses minds and the official announcement of his dismissal will come Tuesday.
Typically, the Bulls get tired of their coaches face around Christmas so it's a miracle that Vinny lasted this long. However, the last straw for Del Negro was when he and vice president of basketball operations John Paxson go into a tussle regarding Joakim Noah's minutes.
Again Chicago was bounced in the first round, this time by the Cavaliers in five games. In each of his two seasons with Chicago, Del Negro finished 41-41 with two playoff appearances.