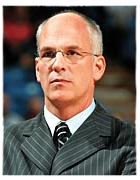 The first Canadian head coach in the NBA, was the first Canadian head coach to be fired. Today the Raptors announced they would not be retaining the coaching services of Jay Triano next season. However he will be kept on the Raps payroll as a consultant and a special assistant to president and general manager Bryan Colangelo. Who fired him, kinda.
"I have great respect for Jay Triano both as a person and as a basketball mind," Colangelo said in a release Wednesday. "Jay deserves tremendous credit for developing our young players this past season and our most recent win-loss record does not appropriately reflect his many positive contributions to this organization."
Let's be honest, Jay Triano had a good run. Subpar record of 87-142 in nearly three seasons aside. Triano has actually been on the Raptors sidelines in one way or another since 2000 when Lenny Wilkens "coached" the Raps. Besides Greg Popovich, no other assistant or head coach in the league today has enjoyed as long of a tenure with one club.
Fare thee well Jay.