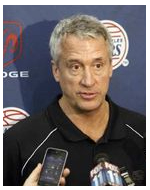 The Los Angeles Clippers today relieved Kim Hughes of his duties as interim head coach. The remaining members of the team's coaching staff will remain in their current roles at this time.
"We appreciate Kim's contributions during his time here especially over the last two and a half months," stated Clippers' President Andy Roeser. "But we also know that our responsibility is to do what is in the organization's immediate best interests for its ability to move forward. This season was an overall disappointment and certainly fell short of both our expectations and what should rightly have been anticipated by our fans. We will move deliberately and productively to regain the successful competitive position we had all hoped for when this past season began."
"We think our situation is extremely attractive, both from the standpoint of the talented and popular core of players who are already under contract, as well as the salary cap flexibility we have created for this summer," Roeser continued. "Los Angeles is a great city, we have total support from our ownership, our facilities are state of the art and we are blessed with a tremendous fan base."
A search for a new coach has already begun.