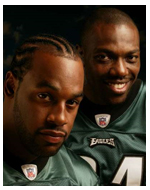 Thanks to Pros vs. Joes, we'll all get a chance to see  former NBA players Rick Fox, Hakeem Olajuwon and Kenny Smith battle it out on the basketball court against current NFL stars Donovan McNabb, Terrell Owens and Antonio Gates.
McNabb and Owens are teaming up on a basketball court instead of a football field in the new season of Spike TV's "Pros vs. Joes." The episode features NFL players that played college basketball against former NBA stars.

McNabb (Syracuse), Owens (Tennessee-Chattanooga) and Antonio Gates (Kent St.) will face Hakeem Olajuwon, Kenny Smith and Rick Fox.
Chris Mullin, Brent Barry, and Isaiah Rider will also be on the NBA squad. While Warrick Dunn, Isaac Bruce, Derrick Brooks, and Jeff Garcia will round out the rest of the NFL side. I can't wait to see this for all kinds of reasons!
It all goes down, July 14 at 10pm ET/PT on Spike.