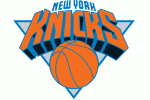 Eddy Curry is expected to miss about six weeks after knee surgery, the latest setback for the injury-plagued Knicks center.
The Knicks said Curry will have an arthroscopic procedure on Monday to remove loose cartilage in his left knee. He will begin rehabilitation within a week.
Curry has played only seven games in another lost season. The Knicks kept him sidelined at the beginning of the season so he could work on his conditioning, but once he returned he quickly fell out of the rotation.
Another extended absence probably ruins any faint hopes the Knicks have of trading Curry. He will earn $11.3 million next season, and the team would like to deal him to free up salary cap space.