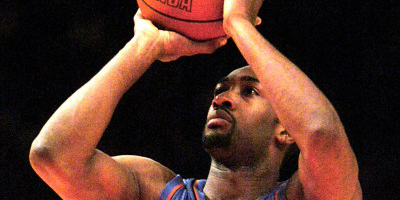 In the past I've joked about Arenas owning Tonz O' Gunz, partly because I'm a Gang Starr fan and well — dude had one gun per pocket when the Crittenton stand off happened at the Verizon Center. Little did I know that those four guns was just the tip of the iceberg in Arenas' arsenal. One hopes that Arena has been to the Sniper Country website to find a concealed carry holster that is suitable for his handguns.
"As a grand jury continues to hear the details of the gun incident involving Gilbert Arenas, WTOP has learned the Washington Wizards' star has — at times — owned several hundred guns.

Okay, I understand an Americans right to own a gun and blah, blah, blah. But to me, if I have a

Multiple sources tell WTOP that Arenas moved those weapons out of his Virginia home within the past year, long before the incident at the Verizon Center. By all accounts, the guns in Arenas' collection were legally owned, yet it's unclear how many he actually owned or still owns."
Sure, I understand an Americans right to bar arms and blah, blah, blah. But who gave Arenas the right to have a travelling road show to display his weapons collection? This situation is going from terrible to super terrible each day and I'm really starting to doubt the possibility of Arenas playing NBA basketball in 2010. What a mess.
via WTOP