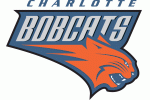 Bob Johnson and Houston's George Postolos continue negotiations on a deal that could shift control of the Charlotte Bobcats, multiple sources told the Observer Monday.Whether a deal is imminent is anyone's guess.
Johnson, who owns about 70 percent of the franchise, put the team up for sale months ago. Postolos, formerly president of the Houston Rockets, has assembled a group of investors. It's unclear whether other bidders are still pursuing a purchase.
In the meantime, many of the team's financial decisions – both large and small – have been put on hold. Sources inside and outside the franchise anticipate the ownership question being resolved in the next two weeks.