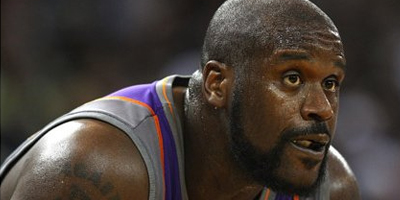 This is one bet that I hope Shaquille O'Neal wins for all of our sakes.
Shaquille O'Neal spent Sunday afternoon at Hermosa Beach playing volleyball against a pair of Olympic gold medalists. It was for his ABC reality show, "Shaq vs.," and the deal was, if O'Neal and gold medalist Todd Rogers lost to Misty May-Treanor and Kerri Walsh, the NBA center would dash down the beach in a pink Speedo. Aside from learning volleyball, this off-season has provided some interesting cross-training for the 37-year-old O'Neal, whose show debuts Aug. 18.
Shaq could have just offered to wash Misty May-Treanor and Kerri Walsh car, do their taxes or given them both rap lessons – okay maybe not the rap lessons. Shaq please win this!
Via Los Angeles Times