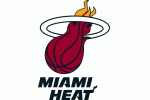 Since the deal Odom was offered is now off the table, could he return to his old team the Miami Heat?
It seems likely that Lamar Odom could sign a five-season deal with the Miami Heat at the mid-level exception ($5.8 million for next season and $34 million or so for the length of the contract) by the end of the week. The Dallas Mavericks also are interested in giving Odom the same deal, but he seems less likely to land in Dallas. Reports out of Miami indicate the Heat are trying to sign Odom and trade for Carlos Boozer of the Utah Jazz in an attempt to satisfy Dwyane Wade's demands for a beefed up roster next season.
If the Heat land Odom and Boozer other teams in the east will have problems, especially on the glass. But Odom does play in La La Land so anything could happen and Lakers owner Jerry Buss could be just adding to the drama to make things interesting. Either way Lamar Odom will be a paid man somewhere.
Via LA Daily News Blog