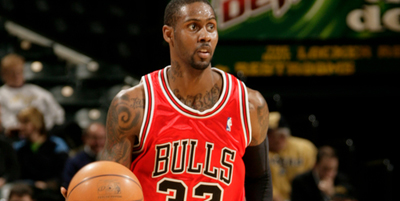 Like I was saying yesterday, what's up with all the injuries? The preseason has turned into Thunderdome.
"The Bulls said Larry Hughes suffered a dislocated right shoulder after colliding with Timberwolves swingman Mike Miller late in the third quarter of Wednesday's game.
Hughes, who had started and scored 21 points to that point, crumpled to the ground after chasing a loose ball and stayed down for several minutes. Athletic trainer Fred Tedeschi sprinted to attend to Hughes, who walked off the floor along with Tedeschi and the Timberwolves' trainer in obvious pain.
A team spokesperson said Hughes' shoulder had been popped back in place. The team wouldn't speculate on the length of Hughes' absence."