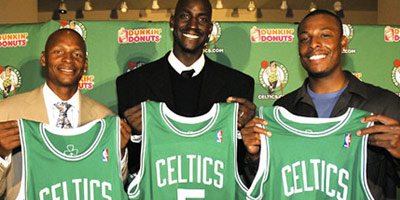 Did anybody get the license plate number of that green and white Peterbilt with Shamrocks on it?
In a game the Lakers needed and the Celtics wanted the Celtics crushed the Lakers for the 2008 NBA Championship 92 – 131 in Game 6. It took 6 games to lower the Lakers to their plot and tonights game makes it look like the Celtics played rope a dope with the Lakers to celebrate in Boston.
The "Big Three" had a big night with Kevin Garnett scoring 22 with 14 boards, Ray Allen scoring 26 and finals MVP Paul Pierce scored 17 with 10 dimes. While firmly keeping their collective foot on the Lakers neck.
Rajon Rondo also had a big game with 21 points and 8 assist to contribute to the slaughter.
Kobe Bryant finished with 22 but looked like he accepted his fate late in the third quarter as did the rest of the Lakers.
This is the 17th time the Celtics have been crowned kings of the NBA and their first title since 1986. Snapping a 22 year drought for the franchise.