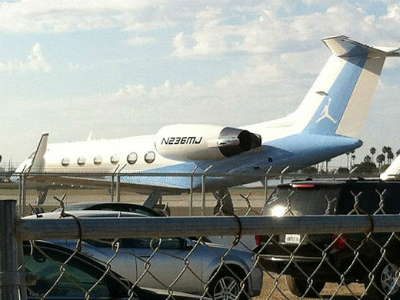 The glory, the story, the championships, the team, the Nike, the plane.
By now you should know that Michael Jordan is richer than an astronaut. The brand that bear his silhouette sells more merchandise than you can imagine — still, he bought the Bobcats after just kicking the tires on them and if that didn't drive the message home that he's like — way richer than us regular folks.
The Internet birthed this photo of the private jet Michael Jordan owns that is complete with his trademark likeness on the tail fin and his initials, the number "6" for the number of rings he has and the number "23" that hangs high in the United Center and AmericanAirlines Arena in Miami on the left jet thingy.
If you're keeping score at home of owners with planes, that's 1 plane for his Airness and 3 planes for Mark Cuban. However in the NBA titles race, MJ will always be a country mile ahead of old Cubes. I'm just sayin'.