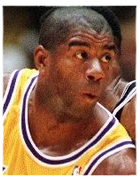 Magic Johnson has sold his small ownership stake in the Los Angeles Lakers to Dr. Patrick Soon-Shiong. The Lakers announced the deal Monday.
Soon-Shiong is a businessman, philanthropist, UCLA professor and 25-year Lakers season ticket holder. Johnson previously has said he is interested in owning a larger chunk of another NBA team, which would require him to sell his stake in the Lakers.
Johnson bought his shares of the Lakers in the mid-1990s, several years after ending a Hall of Fame playing career spent entirely with Los Angeles.
Johnson has been a successful businessman since his retirement. The Michigan native expressed interest last month in being part of a group buying the Detroit Pistons.