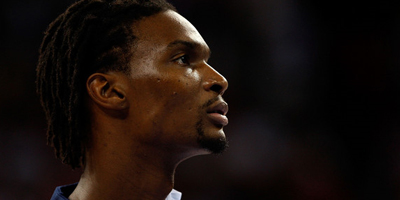 A new season is fast approaching and you need you know, nay — you demand to know! Who's the best at each position in the league on a nightly basis in the '09-10 NBA season. So with your mind and excel sheet ablaze trying to figure out that riddle to no end. I've decided to take one for the team, by putting together a  list of the Top 5 players in the league by position heading into the '09-10 NBA season.
Up next, the power forward spot.
5. Kevin Garnett
08-09 Stats: 15.8 PPG / 2.5 APG / 8.5 RPG / 1.2 BPG / 53.1% FG%
A lot of other power forwards could be number 5 on this list, but they don't play enough defense to edge Garnett out of this spot. Kevin Garnett's knee might not be 70 games ready, but that's a risk any GM in the league would take.
4. Amar'e Stoudemire
08-09 Stats: 21.4 PPG / 2.0 APG / 8.1 RPG / 1.1 BPG / 53.9% FG%
Stoudemire is finally healthy and now that the Suns are back to north-south basketball and Shaq isn't there to slow things up or to clog the middle. STAT should have a big year — provided he stays healthy.
3. Chris Bosh
08-09 Stats: 22.7 PPG / 2.5 APG / 10.0 RPG / 1.0 BPG / 48.7% FG%
After Dwyane Wade and LeBron James, Chris Bosh will be the most intriguing name available in 2010 and he knows it. CB4 averaged 20 and 10 last season, and this year with an improved supporting cast. Bosh should have a great campaign before a team backs up an armoured truck full of cash on his front lawn.
2. Dirk Nowitzki
08-09 Stats: 25.9 PPG / 2.4 APG / 8.4 RPG / 0.8 BPG / 47.9% FG%
Disco Dirk still doesn't play enough defense, but who cares when you can fill it up like him.  So expect a lot of buckets from the man from Würzburg — and from the guy he's guarding too.
1. Pau Gasol
08-09 Stats: 18.9 PPG / 3.5 APG / 9.6 RPG / 1.0 BPG / 56.7% FG%
Since 2008 Gasol was named Euroscar Player of the Year, FIBA Europe Player of the Year, EuroBasket MVP,  selected to the All-NBA Third Team,  won a silver medal in the Olympics, a gold FIBA medal and his first NBA championship. Expect more good things from him in '09-10.