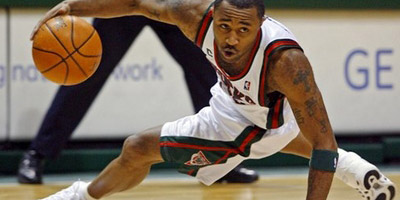 The Cleveland Cavaliers landed some offensive help for LeBron James in the backcourt on Wednesday, as they picked up point guard Mo Williams in a three-team trade with the Milwaukee Bucks and Oklahoma City.
The Cavs acquired Williams while parting ways with guard Damon Jones and forward Joe Smith.
Jones will land in Milwaukee, along with former Oklahoma City point guard Luke Ridnour and swingman Adrian Griffin. Oklahoma City will receive Smith and Bucks forward Desmond Mason.
A five-year veteran, Williams averaged 17.2 points, 6.3 assists, and 3.5 rebounds per game for the Bucks last season. A second-round pick by the Utah Jazz out of Alabama in 2003, the 6-foot-1, 185-pound Williams has five years and $43 million left on a contract he signed last summer with Milwaukee after posting similar numbers in the 2006-07 season — 17.3 points, 6.1 assists, and 4.8 rebounds per game.