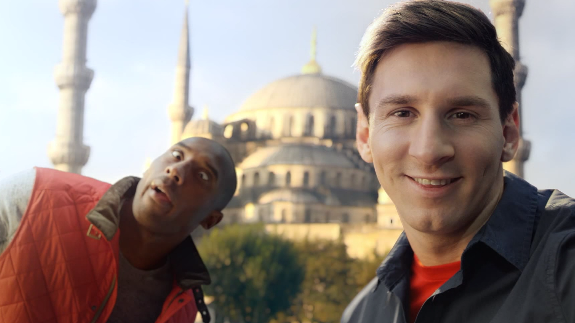 The pairing of superstars (LA Lakers) Kobe Bryant and (Barcelona FC) Lionel Messi in an epic Turkish Airlines 60 minute spot, from agencies Crispin Porter + Bogusky and Starcom, has been named "Ad of the Decade" by YouTube.
"Turkish Airlines' "Kobe vs. Messi: The Selfie Shootout" commercial from 2013 ran away with the public vote and has been named ad of the decade by YouTube, as part of its 10th anniversary celebrations. The runner-up was Volkswagen's beloved 2011 Super Bowl spot "The Force," with a mini Darth Vader bending a Passat to his will. …
The pleasantly goofy Turkish Airlines ad, starring Kobe Bryant and Lionel Messi in an epic battle of selfies—a sequel to a similar spot from 2012—wasn't as critically lauded as the others in the top five. (The other four spots all won major ad awards.) But with 140 million views to date, it far outpaced the others in terms of reach.
"'Selfie Shoot-out' had all the right ingredients for success on YouTube—an adventuresome client, two of the most globally well loved figures in sports, a great idea and a terrific platform to share our work," said Andrew Keller, CEO of Crispin Porter + Bogusky, which made the spot."
H/N AdWeek