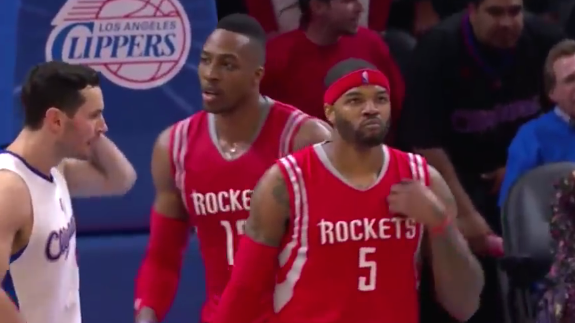 AAU teammates Dwight Howard and Josh Smith took over win or go home Game 6, by sparking a drive that pulled the Rockets even and then ahead for good despite being down by 19 points at one point in the second half.
"We all just want to win, because we understand how important this season and this time is to us," said Dwight Howard, What happened 20 years ago was great for the city and great for that team, but we have to make our own history. This is a great time to do it. We won't quit. You know, we had every opportunity to tuck our tails and to sulk in defeat, but instead we rallied around each other. We continued to believe, and that's why we got the win."
Dwight Howard dominated the paint with 20 points and 21 rebounds while Josh Smith scored 14 of his total 19 points in the fourth quarter to force a Game 7 on Sunday in Houston.
H/N Chron.com