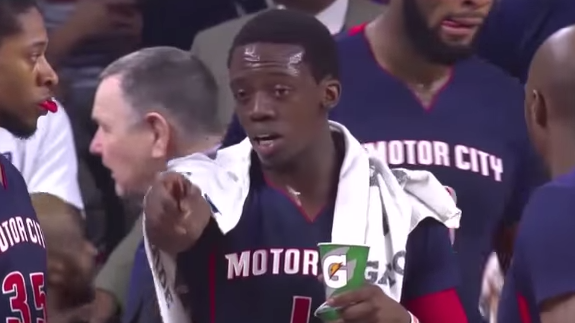 New Detroit Pistons point guard Reggie Jackson was so fired up to play for a new team. He actually puked because his nerves were running a little too high.
"I have to thank my coaches and thank my teammates, because I was a mess out there, and they kept believing in me," said Jackson, who finished with 17 points and five assists. "They all talked to me at halftime and told me to relax and keep playing, and I was finally able to do that."
Stan Van Gundy, who had traded D.J. Augustin, Kyle Singler and two draft picks to get Jackson from Oklahoma City, was a little worried while watching his new point guard.
"He got himself really hyped up to be out there," Van Gundy said. "I don't know if anyone noticed, but the first time we took him out of the game, he threw up on the bench."Once he got calmed down in the second half, he looked like the player we traded for."
Gotta love his level of excitement.