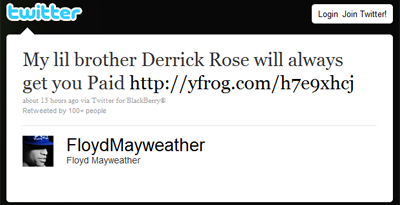 We already know Floyd Mayweather Jr. doesn't trust Bulls guard CJ Watson, but until now we all had no idea just how much trust he has in Derrick Rose.
Apparently Mayweather cashed in on the beat down Chicago laid on the Atlanta Hawks by making a halftime bet from the M Resort that ATL could not outscore the Bulls by six points or more in the second half. The Bulls went on to outscore Atlanta 42-38, which won Money Mayweather $37,272.75. That's gotta feel nice.
After winning more riches to add to his riches, Mayweather poster his winning ticket on Twitter with the message "My lil brother Derrick Rose will always get you Paid." Now if only Mayweather would have the same faith in himself to fight Manny Pacquiao we could all cash in on that.