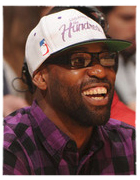 The biggest problem the LA Clippers face annually heading into a new season, is well — being the LA Clippers. The last time they made the playoffs was in 2006 and to snap that un-awesome streak, either the Lakers need to move to the eastern conference or Baron Davis needs to be in shape to lead them.
So far, neither of those things are happening on day one of Clippers media day and new coach Vinnie Del Negro has taken notice of the extra bit of Baron Davis he sees.
"Baron isn't in the shape that he needs to be to reach the standard that we've set here, but he knows that," Del Negro said. "He's put in a lot of work in the last month or so, but he started later than maybe needs to. Overall, I'm pleased with it, but he's not where we need to be."

"Obviously, you want everybody in perfect condition. You have to come in training camp in shape. And the job in training camp is to get into better shape."
Reports suggest that Davis was a robust 260 pounds last month, and if that's the case I can't wait to see him getting minutes at the power forward position. When asked about his new-found weight B-Dizzle said.

"I don't really pay much attention to a lot of things like that," Davis said. "Because it doesn't really affect me. A lot of people kept asking me, 'Are you 260 pounds?" I'm like, 'No, where did you hear that from?'

"That's a lot of backing somebody down. I'd be backing somebody down the whole way down the floor. On second thought…I'd be the Charles Barkley of point guards."
That sounds like a good thing on paper Baron, but definitely not on your knees for 82 games my man. It's time to let Jenny Craig work her magic.
H/N LA Times