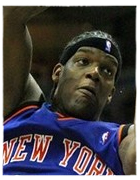 Britney Spears selling albums, people buying Hummers and Eddy Curry pulling up lame in training camp. These are all things I don't understand, but happen all the time. For the third straight year, Eddy Curry will miss time with the Knicks due to an injury that will keep him out of action for the next 4-6 weeks. Woosah Knick fans, woosah.
On Monday, Curry did check into Knicks camp in shape — very round shape that is, tipping the scales at 300+ pounds and his weight is believed to be to reason he strained his right hamstring.
"The weight he came in at [more than 300 pounds], it wasn't outrageous for Eddy," Walsh said. "He's a big man. My feeling was he could lose that weight rather quickly. The problem was at the pace we're going now, his body just wasn't ready for it."
Wasn't ready for it indeed Donnie. Eddy Curry has been losing weight at a glacial / Oprah like pace for years and seldom has he ever looked like a guy that actually plays pro basketball for a living. Apparently making $11.3 million dollars a year isn't quite the motivator it once was I guess. Curry won't travel with the Knicks when they leave for Europe to play an exhibition game on Wednesday and will miss all of camp.
Welcome to your 2010-2011 season New York Knick fans!