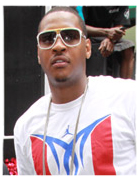 Cue the Vince McMahon music for Denver, because they have absolutely no chance of keeping Carmelo Anthony. According to ESPN sources, over the last 72 hours, Anthony's representatives — headed by agent Leon Rose — have stepped up the pressure on the Nuggets to finish a deal with the Knicks or the Bulls before training camps starts.
The Nuggets have been trying to slow play 'Melo in hopes that he'll change his mind once training camp begins, but so far he has been cooler that Phil Ivey with his trade demands outta Denver.
The Bulls won't deal Joakim Noah to land Carmelo Anthony, but they are all over trading a first-round pick, Luol Deng or Taj Gibson for 'Melo.
The Knicks, are willing to part ways with either Danilo Gallinari, Anthony Randolph, Eddy Curry, Isiah Thomas (I just made that one up) and a first-round pick in 2014 — which would be risky if the Mayans turn out to be right.