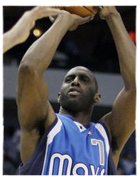 The Dallas Mavericks say they have re-signed free-agent forward Tim Thomas. The six-foot-10, 230-pound veteran of 13 NBA seasons played in 18 games with the Mavericks last season, including one start, and averaged 7.5 points and 2.3 rebounds per game.
Thomas missed the first 11 games of the season because of surgery on his right knee and 41 other games for what the team described as personal reasons.
He has averaged 11.5 points and 4.1 rebounds in 824 career NBA games since leaving Villanova, while shooting .437 from the field, .369 from three-point range and .758 from the foul line. The Mavericks are his seventh NBA team.