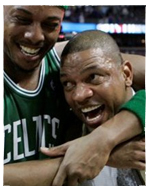 Fret not Celtics nation, Doc Rivers will pick up the fight for at least one more season in Boston and will not opt out of his contract.
"I'm coming back," he said in a text message, The Boston Globe reported. "I want another crack at it with this group."
Ray Allen, Paul Pierce and a few other core Celtics have tough decisions to make this summer starting tonight when the free agency madness hits at 12pm EST. But if Doc is staying on board to guide the C's ship, odds are they'll be sticking around to 'get another crack' at it too because right now they are still the second best team in the NBA.
And I don't imagine it gets much better than the locker room feel Boston provides for veteran ballers.
Rivers was considering a sabbatical from coaching to spend more time with his kids, but I guess between iChat, Skype, revenge — plus the millions he'll be making. The family will be just fine.