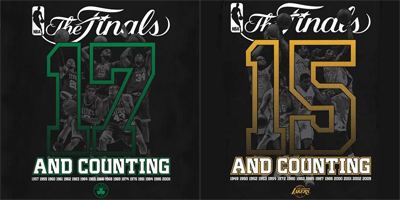 The Boston Celtics and LA Lakers have met more times in the NBA finals than any other two clubs. Of the 11 times they've met in the finals, the C's have won 9 of those match ups. So if it seems like those two organizations dominate the finals, it's because they do. The Lakers have a stranglehold on the record for the most finals appearances with 30, winning 15 titles. While the Celtics are second in that category with 21 appearances, winning 17 times respectively.
However, the number that really makes these teams great is the fact that combined they've won 32 championships. All other 30 NBA teams combined have only won 28 titles and 7 teams have never even been to the big dance.
Now that you have that bit of knowledge in you back pocket, after you buy one of these "And Counting tees" from the NBA store and someone asks "what's that 17 or 15 on your shirt stand for?", you can break down their query with efficiency.