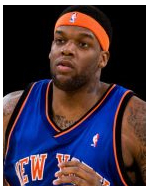 Eddy Curry will likely miss the rest of the season because of a right calf injury, apparently ending another lost year for the New York Knicks center.
The Knicks announced Monday that Curry has a torn myofascial band in the calf and is not expected to play in the final 10 games.
Curry has played in just seven games this season and has appeared in only 10 over the last two seasons because of injuries, illness and ineffectiveness. He injured his calf in training camp and later had left knee surgery.
One of their few players under contract beyond this season, the Knicks still don't know if the 6-foot-11 center can be useful in coach Mike D'Antoni's system.