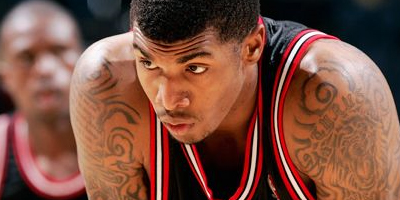 After years of saber-rattling from the Bulls about trading Tyrus Thomas. Chicago has finally done the deed, shipping Thomas to the Charlotte Bobcats for two players in return according to the Chicago Tribune.
League sources confirmed that the Bulls will send Thomas to Charlotte for Acie Law, Ronald Murray and a protected future first-round draft choice, pending league approval.
I'm sure the word "potential" will follow Thomas to Charlotte and paired with Tyson Chandler in the Bobcats front court, Daniel Day Lewis and I believe that "There Will Be Shots Blocked".
The Bulls also officially announced the John Salmons trade with the Bucks for Joe Alexander and Hakim Warrick is completed.