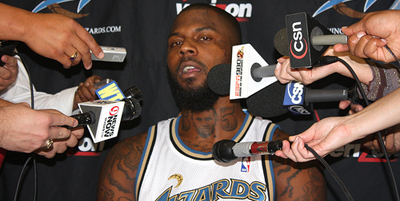 DeShawn Stevenson seemed like a pretty impulsive dude when a Tattoo Gun is in front or him when I saw his number 2 tattoo, but now it's official. Stevenson will tattoo damn near anything on his body.
Yesterday, Stevenson showed up for the Wizards media day and dude had some awesome new impulsive Tatts. He had a Frankenstein crack near his hairline, because he doesn't crack??? A backwards Pittsburgh Pirates "P" on his right cheek, because that's his favorite team, duh.
And to top it off, he had a picture of Abe Lincoln on his throat. No word on why the 16th President got canvas room on Stevenson's throat yet, but I believe when he's ready to talk about it.
It'll be the truth, because now his throat seems honest.
Via Truth About It